The best and the fastest Texas hydrovac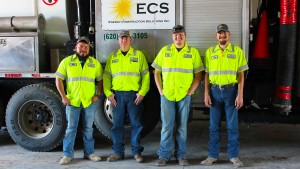 ECS Inc's Texas hydrovac team is experienced in excavations for the energy industry, including oil and gas providers and nuclear plants. Our operators can safely excavate around utilities and other sensitive areas. Hydro-excavation is a precision process that quickly cuts through dirt and rocks with high pressure water. The excavated soil is cleared away with a vacuum tank.
Because of it's precision, the hydrovac process can be more cost-efficient than traditional mechanical digging. The accuracy of hydro-excavation reduces accidents and injuries. Equipment such as backhoes can easily damage underground pipes, lines and cables, causing safety issues, increased labor expenses, and costly repairs. Because of these issues, hydro-excavation has become the preferred method digging throughout the country.
To date, ECS has successfully excavated to depths of up to 42 feet. We use precision Hydra Flex Ripsaw nozzles for excavation speeds up to 35% faster. When you work with ECS, you can rest assured that job will be done correctly, quickly, and efficiently.
From our home office in central Kansas, our crews can quickly deploy anywhere in Texas including the Dallas/Fort Worth, San Antonio, and Houston metros. Give us a call at 620-364-3105!